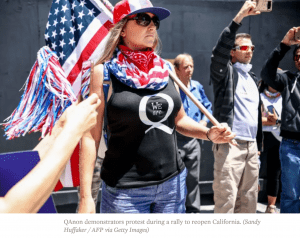 A recent article in The Nation magazine states that QAnon is "closer in spirit to terrorist organizations like the KKK, which had ties to political elites but also instigated extrajudicial violence."
https://www.thenation.com/article/politics/qanon-future-republican-party/?fbclid=IwAR14flYlmSHBH-xnvT-t6Of3txsowbANP_oU6wvDO1i8e8Y4rRbLHUOiIAg
Don't think it can't happen here and now. In fact it did in the 1920s. My Medicine For The Blues novel trilogy gives an inkling of what life was like under a government aligned with the KKK. Back then Klan members were in positions of power at the local, county, state, and national levels.
Now we have a Georgia woman GOP candidate for US Congress, who is a QAnon supporter, poised to be elected in November. And she is not the only one.
https://www.nytimes.com/2020/08/11/us/politics/marjorie-taylor-greene-qanon-georgia-primary.html
"The ascension of Marjorie Taylor Greene, who embraces a conspiracy theory that the F.B.I. has labeled a potential domestic terrorism threat, came as six states held primary and runoff elections on Tuesday." [Aug. 11, 2020]
QAnon is not a movement made up of harmless cranks.
https://www.rollingstone.com/culture/culture-features/qanon-domestic-terrorism-threat-conspiracy-theory-866288/
"The FBI memo cites at least two violent incidents or attempts purportedly linked to QAnon: An Arizona man harassed and doxed locals he suspected of participating in the child sex trafficking ring at the heart of the conspiracy theory; and a Nevada man at the Hoover Dam whose truck was found to contain rifles and other ammunition, who was later discovered to have sent letters to President Trump containing references to the movement. (It does not cite the case of QAnon believer Anthony Comello, a Staten Island man who allegedly fatally shot Mafia boss Frank Cali because he believed he was a member of the deep state.)" [August 2, 2019]
https://thehill.com/homenews/administration/455487-hours-after-trump-retweet-twitter-account-suspended
"Trump has frequently come under fire for his tweets, including for tagging a Twitter account on Tuesday that is associated with the QAnon conspiracy theory as he renewed calls to expand voter identification laws." [07/31/19]
The Trump backers blame political violence on left-wing activists. In fact the most violence has come from the right wing.
https://www.theguardian.com/world/2020/jul/27/us-rightwing-extremists-attacks-deaths-database-leftwing-antifa
"A new database of nearly 900 politically motivated attacks and plots in the United States since 1994 includes just one attack staged by an anti-fascist that led to fatalities." [27 Jul 2020 ]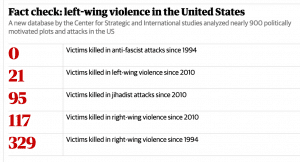 The next time you hear Trump blaming violence on the Democratic party and left-wing protesters, remember these tragic events. I will let the news speak for itself:
Street, Kenosha, WI, 25 August 2020
https://www.chicagotribune.com/news/ct-kenosha-shooting-kyle-rittenhouse-20200826-xdww3peuj5ddbimcj4vikx63y4-story.html#nt=interstitial-manual
"Kyle Rittenhouse, the alleged vigilante who has been arrested in connection with a violent Kenosha night that left two people dead and another wounded….attended an Iowa Trump rally in January, and video from the event shows him cheering for the president from the front row. The teen also posted a video from the rally on one of his two TikTok accounts." [Aug 26, 2020]
Walmart, El Paso, TX, 3 August 2019
https://www.elpasotimes.com/story/news/2019/08/04/el-paso-shooting-patrick-crusius-white-supremacist-manifesto/1914965001/?fbclid=IwAR1r45yN3QC-Mti2moKU_kkYivsJyfGG1Gg9Q1OhHQ_cS86lSDXV2DAAUWY
"The killer's alleged manifesto cited a 2011 French book by Renaud Camus called 'The Great Replacement,' which gave rise worldwide to a conspiracy theory that the 'white race' was being replaced by non-white, or non-European, people. He expressed admiration for the Christchurch shooter, who in March murdered 51 and injured 49 at two New Zealand mosques….The killer allegedly wrote, 'This attack is a response to the Hispanic invasion of Texas. They are the instigators, not me. I am simply defending my country from cultural and ethnic replacement brought on by an invasion.'" [Aug. 4, 2019]
https://www.cnn.com/2019/08/05/us/el-paso-suspect-patrick-crusius/index.html?fbclid=IwAR2mHN1Lgn6vOR7VZ0klenQ7fy533ha3MGxYFBwlZ27EI5RWLtMu98roJTM
"Some of the language of the manifesto reflects ideas from President Trump, Fox News and the modern Republican party. For example, the document warns of a 'Hispanic invasion' and says Democrats are using 'open borders' and 'free healthcare for illegals' to attract new voters." [August 6, 2019]
Mosque, Christchurch, New Zealand, 15 March 2019
https://www.cnbc.com/2019/03/17/mulvaney-calls-it-absurd-to-link-new-zealand-mosque-shooter-to-trump.html?fbclid=IwAR2W1AyDADaDL5ct1FPvz8ZJwknEZw4VAeNGiP9KqRXv-t8I_9MvXU8jCjY
"…the man accused of the deadly shootings at mosques in Christchurch, New Zealand, left behind a lengthy document that proudly stated he was a white nationalist who hates immigrants and was set off by attacks in Europe that were perpetrated by Muslims.
'Were/are you a supporter of Donald Trump?' was one of the questions he posed to himself in the document. His answer: 'As a symbol of renewed white identity and common purpose? Sure. As a policy maker and leader? Dear God no.'" [Mar 17 2019]
Synagogue, Pittsburgh, PA, 27 October 2018
https://www.cnn.com/2018/10/29/media/pittsburgh-suspect-invasion/index.html?fbclid=IwAR2aOSQID48-Icb-k49lH1WuvRb6vk16Hb4dNEcUQu4M4E3DbKqxwUCMy0A
"The suspect [of the the Pittsburgh synagogue shooting]…complained about immigrant 'invaders' six days before the shooting.
….
"It may never be known where he heard this hateful language. But a review of television and online content shows how 'invasion' and 'invaders' became a talking point in October — not just in the darkest corners of the web, but on Fox's prime time shows.
….
"But the imagined threat posed by the migrant caravan was all over the news. And President Trump tried to keep it that way, by repeatedly tweeting about and talking about the caravan. On October 18, he cast the migrant issue as a midterm election opportunity for the GOP, saying 'this will be an election of Kavanaugh, the caravan, law and order and common sense.'" [October 30, 2018]
Park, Charlottesville, VA, 11 & 12 August 2017
https://www.nbcnews.com/news/crime-courts/james-alex-fields-found-guilty-killing-heather-heyer-during-violent-n945186
"The Southern Poverty Law Center in a statement Friday welcomed the guilty verdict but said President Donald Trump — who said, 'I think there's blame on both sides' days after the violence, comments that were harshly criticized — 'bears a measure of moral responsibility.'
'For had he not energized the radical right, the horrific events in Charlottesville never would have occurred,' the SPLC said of the president. 'He should apologize to Heather Heyer's family and to all those who were injured for the hate that he unleashed.'" [Dec. 7, 2018]
Church, Charleston, SC, 15 June 2015
https://www.bloomberg.com/news/articles/2016-12-16/understanding-what-dylann-roof-shared-with-donald-trump?fbclid=IwAR2MogbK6a8eW_gS_c2PvOKfqiS6FuUZW83QTFbSD5_XFT6_iVPX26BV44Q
"The federal prosecutors who successfully got Dylann Roof convicted on all 33 counts of hate crimes and murder based much of their argument on the online manifesto the white supremacist posted shortly before he killed nine African Americans at the Mother Emanuel A.M.E. Church in Charleston, South Carolina, on June 15, 2015….As Jamelle Bouie accurately noted in Slate yesterday, the sentiments Roof expressed in this document often mirror the ones that launched Donald Trump to the White House." [December 16, 2016]
Let's be clear. It is not the Democrats and the Black Lives Matter protesters who are responsible for Trump's "American Carnage." The violence Trump rails against is happening on his watch and is fueled by his rhetoric. He bears much of the responsibility himself.
The violence that Trump envisions, with his characteristic psychological projection, is not what Joe Biden will bring to our nation if elected. I believe Biden is better suited to help heal our divides and bring people together.
—Jeff Stookey, September 2020
***
References noted within the text.
***
for more on QAnon:
"Into the Rise of QAnon During the Pandemic"
Into America podcast with Trymaine Lee, Aug. 19, 2020
https://www.nbcnews.com/podcast/into-america/rise-qanon-during-pandemic-n1237337
***